First things first...
**bends down and kisses imaginary feet**
Nirvana was an American rock band that was formed by singer/guitarist Kurt Cobain(R.I.P.) and bassist Krist Novoselic in Aberdeen, Washington in 1987. Nirvana went through a succession of drummers, the longest-lasting being Dave Grohl, who joined the band in 1990.
The band established itself as part of the Seattle music scene, releasing its first album Bleach for the independent record label Sub Pop in 1989. After signing to major label DGC Records, Nirvana found unexpected success with "Smells Like Teen Spirit", the band's lead single from its second album Nevermind (1991). Subsequently, Nirvana entered into the mainstream, bringing along with it a subgenre of alternative rock called grunge. As Nirvana's frontman, Kurt Cobain found himself referred to in the media as the "spokesman of a generation," with Nirvana being considered the "flagship band" of Generation X. Cobain was uncomfortable with the attention and placed his focus on the band's music, believing the band's message and artistic vision to have been misinterpreted by the public, challenging the band's audience with its third studio album In Utero (1993).
Nirvana's brief run ended following the death of Cobain in 1994, but the band's influence and popularity endured in the years that followed. In 2002, "You Know You're Right," an unfinished demo from the band's final recording session, topped radio playlists around the world. Since their debut, the band has sold over twenty-five million albums in the US alone, and over fifty million worldwide.
Right now I'm going through a SERIOUS Nirvana craze...
Especially after listening to
Smells Like Teen Spirit
...I wrote the lyrics all over my desk back at school... :-P
Lithium
is also pretty awesome.
All Apologies
Heart Shaped Box
You Know You're Right
Drain YouRape meBreed
Anddd almost every other song they ever sang...
Kurt Cobain's death:
Kurt Cobain was found dead at his home in Seattle, Washington, United States on April 8, 1994. Cobain, the lead singer of the American grunge band Nirvana, had checked out of a drug rehabilitation facility and been reported suicidal by his wife Courtney Love. The Seattle Police Department incident report states that Cobain was found with a shotgun across his body, had a visible head wound and there was a suicide note discovered nearby. The King County Medical Examiner noted that there were puncture wounds on the inside of both the right and left elbow. The Seattle Police Department investigated, and after an autopsy by the King County Coroner's Office, Cobain's death was ruled a suicide by a single gunshot blast coming from his jaw then exiting through the top of his head.
Despite the official ruling, several theories have arisen offering alternate explanations for Cobain's death. Tom Grant, a private investigator hired by Cobain's wife Courtney Love to find Cobain after his departure from rehab, put forth his belief that Cobain was murdered. Grant's theory has since been analyzed and questioned by television shows, films, and books. Authors and filmmakers have also attempted to explain what might have happened during Cobain's final days, and what might have led him to suicide.
New Goal in Life: Fine the idiot who killed him, and kill her/him
His 'suicide note':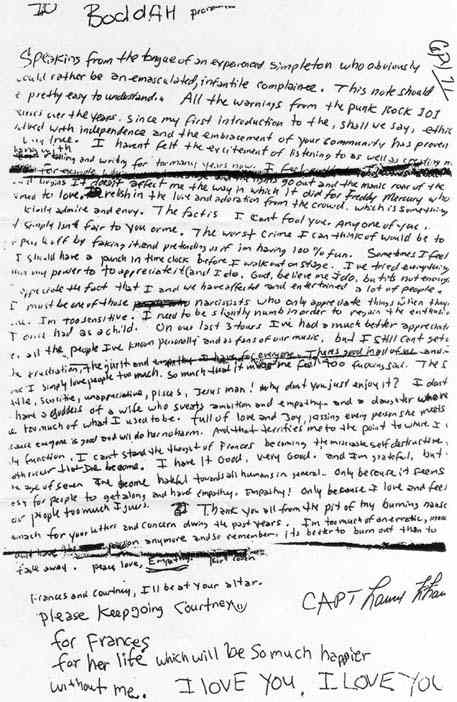 Incase you can't read that (I had a lot of trouble :-P ) read this if your really interested:
Spoiler:

To Boddah
Speakings from the tongue of an experienced simpleton who obviously would rather be an emasculated, infantile complainee. This note should be pretty easy to understand. All the warnings from the Punk Rock 101 Courses over the years, it's my first introduction to the, shall we say ethics involved with independence and the embracement of your community has been proven to be very true. I haven't felt the excitement of listening to, as well as creating music, along with really writing something for too many years now. I feel guilty beyond words about these things, for example when we're backstage and the lights go out and the manic roar of the crowd begins. It doesn't affect me in the way which it did for Freddie Mercury, whoseemed to love and relish the love and admiration from the crowd, which is something I totally admire and envy. The fact is, I can't fool you, any of you. It simply isn't fair to you, or to me. The worst crime can think of would be to pull people off by faking it, pretending as if I'm having one 100% fun. Sometimes I feel as though I should have a punch-in time clock before I walk out on-stage. I've tried everything within my power to appreciate it, and I do, God believe me, I do, but it's not enough. I appreciate the fact that I, and we, have affected, and entertained a lot of people. I must be one of the narcisists who only appreciate things when they're alone. I'm too sensitive, I need to be slightly numb in order to regain the enthusiasm.But, what's sad is our child. On our last three tours, I've had a much betterappreciation of all the people I've known personally, and as fans of our music. But I still can't get out the frustration, the guilt, and the sympathy I have for everybody. There is good in all of us, and I simply love people too much. So much that it makes me feel too Love sad. The sad little sensitive unappreciative pisces Jesus man! why don't you just enjoy it? I dont know! I have a of a wide who sweats ambition and empathy, and a daughter who reminds me to much of what I use to be. full of love and joy, every person she meets because everyone is good and will do her no harm. And that terrifies me to the point to where I can barely function. I can't stand the thought of Frances becoming the miserable self destructive, deathrocker she become. I have it good, very good, and I'm grateful, but since the age of seven, I've become hateful towards all humans in general. Only because it seems so easy for people to get along and have empathy. Empathy only because I love and feel for people too much I guess. Thank you from the pit of my burning nauseas stomach for your letters and concern during the last years. I'm too much of a neurotic moody person and I don't have the passion anymore, so remember, it's better to burn out, than to fade away. Peace, love, empathy, Kurt Cobain.

Frances and Courtney, I'll be at your altar. Please keep going Courtney for Frances for her life which will be so much happier without me. I LOVE YOU. I LOVE YOU!