As the darkness descends, the ritually grainy snippet of the censor board certificate flashes on the screen-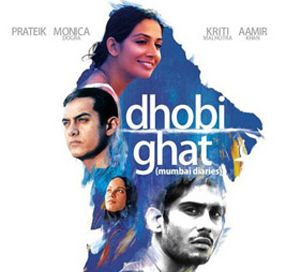 Dhobi Ghat- A
It reads. Before one starts wondering how the flick with such innocuous trailers might have some dark/unethical/immoral elements when you go for the fully brewed version, the statutory warning flashes-
Smoking is injurious to health
You seriously have no words for the censor board at that moment.
Ninety five minutes later, you still have no words. All you take away is a realization that the last 95 minutes you spent will last with you for days together.
You, sir, have been knocked over.
So, from today, if I ever use the phrase 'hauntingly beautiful', Dhobi Ghat is
the
thing that will come to me.
First things first- Dhobi Ghat is a beatific piece of art made by a filmmaker who can afford to aspire to make waves in the mainstream only because of the backing of a financially secure producer-actor-husband. In an ideal world, she is the new torchbearer of the Indian New Wave on the wrong side of thirty-five. But perhaps it is because of this age factor that she could accumulate enough wealth of experience, elements and make a film enunciates perfection in every frame.
For the story, the film doesn't really stand out. Mumbai Diaries, as the strap line of the movie title says, is the conventional type- taking the threads of Mumbaikars from various backgrounds and weaving it together into 95 minutes. It has been done before, we have our Life in a Metro's or Mumbai Meri Jaan's with their multiple storylines all set in the city. What makes this one so special is the 'DSLR effect'. Now, how the 'DSLR effect' goes is something a Point & Shoot camera toting guy knows well: an ordinary subject/image made look extraordinary only because of the greater control granted by the near auteurist camera that a DSLR is. So when you have Aamir Khan as an introverted artist, Monica Dogra as the stereotypical New York return shutterbug out to click Mumbai in its 'true avatar', Pratik Babbar as a dhobi (with the usual waxed chest discrepancy*) who aspires to make it big in the glamour land and clips of Kriti Malhotra as a new wife suddenly plunged into the heartland of Mumbai due to her husband, there isn't a lot you expect.
Enter Kiran Rao. And then you vehemently nod to Aamir Khan's statement- 'This film is the best to come out of our production house till date.'
To walk one through it nevertheless, Arun (Khan) shifts to a new house where he discovers three video cassettes of the previous tenant. These have the footage of the adorable Yasmin (Kriti Malhotra), who meant for the cassettes to be sent to her home in UP in bargain for still pictures. Shai (Monica Dogra), on the other hand, gets acquainted with Arun in one of his art shows and ends up spending the night with him, with their ties estranging the next morning. For Shai though, the hangover the night remains, with her dhobi Munna serving as the link between her and Arun. Subsequently, a beautiful connection blooms between Munna and Shai.
It might be repetitive to say this film is not for every palate. At best, it is a few pieces picked up from a jigsaw puzzle and joined together to form a brand new puzzle. So you have lots of open-to-interpretation ends and a ravenous feeling in the pit of your belly at being deprived the complete fare. Then you realize that is how such flicks work. Abstraction is the key and the director, a world cinema fanatic, has done it the best after Indianising it her own way.
Dhobi Ghat will continue to get mixed reviews even from the critics. Aamir Khan will be called 'dawdling through his act'; Pratik Babbar will be noticed only for the looks and the lesser known faces will be ignored. If you look for a subjectivist perspective, Khan has done one of his career best jobs of an act, Babbar has emerged out true to his genes and the other two ladies eat up the film will their sheer charm. You are left overwhelmed, the marketing strategy of no interval working to the hilt with you rooted in the seat as the guitar strums that dominate the background score begin once again as the credits fade in and out. Scintillating in parts, elegant in others and overall a art film connoisseurs' delight, this one propels itself straight to Aparna Sen's standards.
* Waxed chest discrepancy: A much committed sin in Hindi films wherein the actor portraying a lower class character's role has perfectly sculpted and waxed chest, much to the chagrin of an observant viewer. See also- 'Arshad Warsi in Ishqiya'.