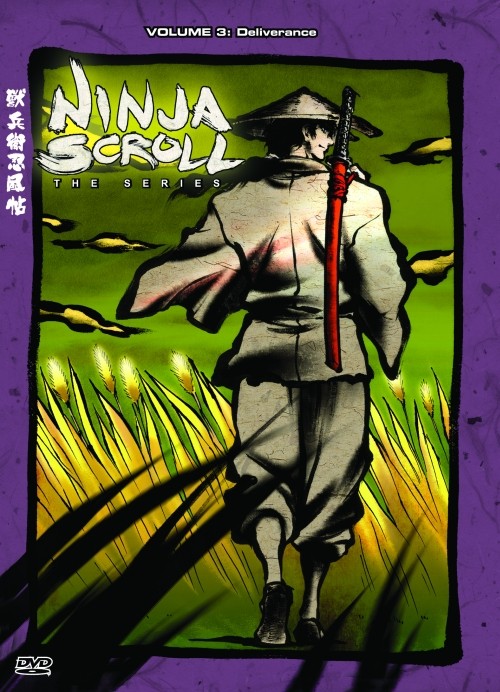 Ninja Scroll:
The Series (Jūbē Ninpūchō Ryūhōgyoku Hen) is a 2003 Japanese animated television series based on Yoshiaki Kawajiri's Ninja Scroll. The series is directed by Tatsuo Sato and animated by Madhouse Studios.
The Series aired in Japan in 2003 and ran for 13 episodes. The series is partly written by Yoshiaki Kawajiri, but remains only a spiritual sequel to the film because the story stands alone; however, many references suggest that it is indeed a continuation from the movie. In the series, Jubei gets caught in the middle of a battle between the Kimon Clan and the Hiruko Clan. He meets up with the Light Maiden Shigure, a young lady whose village was destroyed by the Kimon Clan and whom Jubei was charged with delivering a Dragon Stone to. The duo are joined by Tsubute (a young thief) and Dakuan (Tokugawa shogunate spy) , and together they try to find out why both the Kimon and the Hiruko Clan are after her and why the Dragon Stone she carries is so important to them. The show was directed by Tatsuo Sato (Martian Successor Nadesico), with character design done by Takahiro Yoshimatsu (Trigun).
Source: Wikipedia
I'm currently downloading the series, didn't see it as yet. Gonna watch it after the completion of the downloading.
So, the discussions of this series is to be carried on here.... hehehe.




Last edited by Kahoko_25 on Thu May 27, 2010 11:32 am; edited 1 time in total (Reason for editing : Needed to put the correct image.)