Plot Summary
: Onizuka is an ex-biker and gang leader who has one goal, to become the greatest teacher. He learns of the power and respect possible as an intern teacher, using his strength and connections to get his students to respect him. Now, graduated, he gets a job at a prestigious private school to handle their 'problem class' that made the past few teachers quit. He must handle a different sort of trouble when the trouble makers include some of the smartest kids in Japan who prefer a more cerebral approach to torturing their teacher. Onizuka must slowly win his students over and deal with their mistrust of teachers while handling the distrust of his fellow teachers.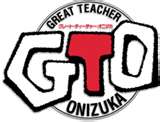 When i saw the first episode [which starts with a panty shot] i felt ...WTF ?? Kyo gave me this trash...i told him that i hate ecchi ...so why would he do that..realizing that I couldn't do anything except to watch this anime [as i had already downloaded 5gb] ...i started watching it..And now i feel that i did the right thing because it more than ecchi and stuff..
Thanks KYO..Your recos are the best.