Lesson One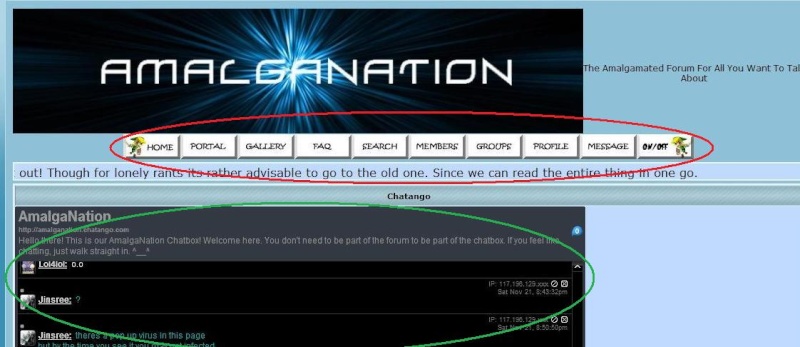 Let us observe the above picture.
First I shall discuss the Green ellipse. That is the famous Chatango chatbox. You don't need to be a part of the forum to be part of the chatbox. It is separate in itself and has no relation to the forum. Its only purpose is to act as an IM device for members over the forum, who, for their own respected reasons may not want to reveal their email ids. As for my example, I just use it cuz I hate Yahoo Messenger, do'nt use Hotmail ID, rarely am on gTalk and don't use any other IM device. So I just hatch eggs on this CB (acronym for chat box).
If the Cb is not opening for you, then you need to download a few plug ins to be able to view it. Well, I had all the plug ins, so I had no problem, but I assume you need Adobe Flash (duh!). It should inform you if you have any missing plug ins that it requires.
Now, lets move onto the more important part - the Red Ellipse.
First in the ellipse is the word HOME. Home is the Main index. I shall get back to talking about HOME after a few posts. Let us discuss the other parts first. Next in line is the Portal. Portal is the picture above. Portal is a place where (in my opinion) forums just get to show off their widgets and cool stuff that they have. In our case, our chatbox. Our forum portal is only known for its Chatbox, where usually, there may be as many as 8 ppl on it at once. Quite chaotic, but fun, nonetheless.
Next in line is the gallery. Gallery is where you can upload pictures of your own onto the forum. You can upload and store them in your folder here. Of course, Moderator permission is required for it, which I try to keep regular. So only when I "Approve" of a picture uploaded by a fellow member, does it get stored in the gallery.
FAQ is the short form for Frequently Asked Questions. This is a link where Forumotion has IN BRIEF tried to explain the usage of the forum. Since it is IN BRIEF, I am making this more IN DEPTH FAQ for you.
SEARCH comes next. This is just what the term means. It searches the forum for the word/phrase you have typed and gives you results.
MEMBERS is the memberlist. It will provide you with a list of the members on our Forum. You can adjust how you intend to view the list by clicking on the drop down menu in the top. You can sort them in Ascending or descening order of their Join Date, Last Visit, and so on.
GROUPS is the usergroup section, where you can view if you are part of a usergroup or not. Usually, you have to ask permission of the Usergroup head to join. In case of Administrator and Global Moderator, you can't ask, cuz those are special Usergroups. In Special usergroups only the BOSS can decide if he shd choose you or not.
Next is PROFILE - which enables you to view your profile, where you can attach signatures (sigs) or Avatars (Display Pictures). Profile will be discussed in detail in my next post.
After that comes MESSAGE. This is your inbox. Your forum email id, as I call it. It enables you to send PRIVATE messages to other members of the forum.
On/Off is a button which you click to be redirected to a page asking you to login or logout of the forum. For unregistered members, there is also a REGISTER button, which, if they click, enables them to sign up and register and become a member on our forum.
________________________________________________________________________________________________________
So, in my next post I shall talk about the PROFILE and MESSAGE sections. HOME shall be discussed in the post after that.
_________________________________________________________________________________________________________


Last edited by Aceviper on Wed Nov 25, 2009 8:25 pm; edited 1 time in total